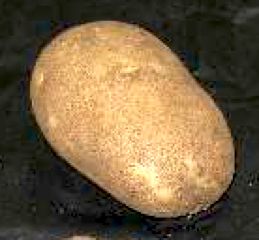 Year of the Potato
by Tom Galanis – museum volunteer gardener
2008 is the Year of the Potato (the United Nations offically designated 2008 as the International Year of the Potato) and so in consideration of this title, the Port Moody Historical Society grew some potatoes in the CPR heritage garden attached to the facility.
(image to right Pacific Russett Potato – images courtesy Tom Galanis*)
To begin with, we'll discuss some information about the potato.  The potato is a starchy, tuberous crop vegetable from the perennial Solanum tuberosum of the Solanaceae family.  Potato is the world's most widely grown tuber crop, and the fourth largest food crop in terms of fresh produce after rice, wheat, and corn.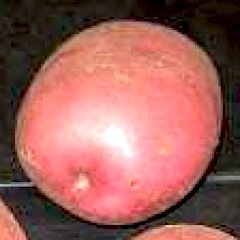 (image to left Chieftain Potato – images courtesy Tom Galanis*)
The potato species originated in South America, probably from Chile and Peru – from study of historical records, we know that the Incas grew and ate potatoes.  The potato was introduced to Europe in 1536, (Spanish explorers brought them back from the New World) and subsequently by European mariners to territories and ports throughout the world.  Thousands of varieties persist in the Andes, where over 100 varieties might be found in a single valley, and a dozen or more might be maintained by a single agricultural household. Once established in Europe, the potato soon became an important food staple and field crop. But lack of genetic diversity, due to the fact that very few varieties were initially introduced, left the crop vulnerable to disease. In 1845, a plant disease known as late blight, caused by the fungus-like oocmycete Phytophthora infestans, spread rapidly through the poorer communities of western Ireland, resulting in the crop failures that led to the Great Irish Famine.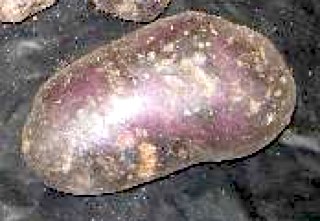 (image to right Russian Blue Potato – images courtesy Tom Galanis*)
The potato remains an essential crop in Europe (especially eastern and central Europe), where per capita production is still the highest in the world, but the most rapid expansion of potato over the past few decades has occurred in southern and eastern Asia. China is now the world's largest potato producing country, and nearly a third of the world's potatoes are harvested in China and India. More generally, the geographic shift of potato production has been away from wealthier countries toward lower-income areas of the world.
Some production figures show:
Country
1,000 metric
tons grown
China
70,000
Russia
39,000
India
24,000
USA
20,000
Ukraine
19,000
Germany
10,000
Poland
9,000
Belgium
8,000
Netherlands
7,000
France
6,000
Canada
2,500
Interestingly, the USA is the most efficient producer of potatoes – meaning they grow more potatoes on less land than the other nations listed here.  This reflects on the  agricultural techniques used by the various countries.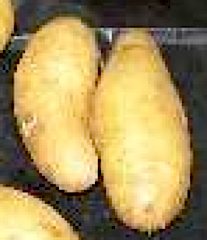 (image to left Chieftain Potato – images courtesy Tom Galanis*)
There are about five thousand potato varieties world wide. Three thousand of them are found in the Andes alone, mainly in Peru, Bolivia, Ecuador, Chile and Colombia. They belong to eight or nine species, depending on the taxonomic school. Apart from the five thousand cultivated varieties, there are about 200 wild species and subspecies, many of which can be cross-bred with cultivated varieties, which has been done repeatedly to transfer resistances to certain pests and diseases from the gene pool of wild species to the gene pool of cultivated potato species.  In Canada, there are about 180 varieties of potato that are registered with the Canadian Food Inspection Agency.  The CFIA monitors food products for public safety and to ensure plant diseases are not introduced into Canada during import / export of food products.  As such, these varieties are listed with the CFIA and are allowed to be grown and sold/imported/exported to/from Canada.  The CFIA does recognize that there may be garden variety potatoes grown throughout Canada, but these are not allowed to be put into the market system lest they introduce disease into the potato growing system.  It is possible to register a garden variety potato, and once that is done, then commercial sale of these potatoes is allowed.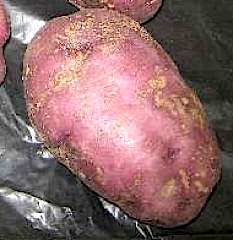 (image to right Caribe Potato – images courtesy Tom Galanis*)
Nutritionally, potatoes are best known for their carbohydrate content (approximately 26 grams in a medium potato). The predominant form of this carbohydrate is starch. A small but significant portion of this starch is resistant to digestion by enzymes in the stomach and small intestine, and so reaches the large intestine essentially intact. This resistant starch is considered to have similar physiological effects and health benefits as fiber.  Cooking and then cooling potatoes significantly increases resistant starch. For example, cooked potato starch contains about 7% resistant starch, which increases to about 13% upon cooling. Potatoes contain a number of important vitamins and minerals including vitamin C, potassium,  vitamin B6 and trace amounts of thiamin, riboflavin, folate, niacin, magnesium, phosphorus, iron, and zinc. Moreover, the fiber conten
t of a potato with skin equals that of many whole grain breads, pastas, and cereals. Potatoes also contain an assortment of phytochemicals, such as carotenoids and polyphenols.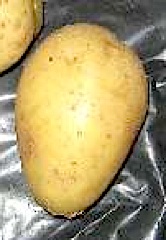 (image to left Green Mountain Potato – images courtesy Tom Galanis*)
An interesting situation has developed in recent years with potato varieties.  The North American diet has grown to include a fair amount of potatoes grown for either french fry production or potato chip production.  It turns out that some potatoes that are great for eating in traditional methods – boiling or baking – are not so good for producing the best french fries or potato chips.  Snack manufacturers want a chip or fry which is "golden" in colour when fried in oil.  If a potato is high in starch, then when fried it turns a deep brown colour.  Since this is considered unacceptable for snack appearance, it has meant that the major food companies have paid farmers to grow more and more potatoes that bear the desirable ratio of solids and starches for snack production rather than for direct market consumption.   
In 2008, the PMHS decided to try 18 different varieties of potatoes.  They were broken up into Early Season Potatoes, Medium Season Potatoes, and Late Season Potatoes.  This refers to their time of maturation; normally an early potato is available as early as July, while the late potato is usually ready in September.  Please note that in most cases, we tried to grow anywhere from 4 plants up to 20 plants of each variety.  The number of plants we grew is indicated in brackets after the potato variety name.  For each variety, a general description of the potato is given, plus a small summary of our experience in growing that potato. 
Early Season Potatoes: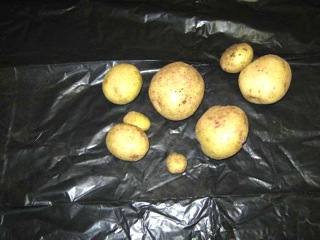 Carlton (4) – Medium yielding variety; wide adaptability as first early tablestock. Tubers size early to very early across the Canadian Prairies; vines maturity is midseason to late; smooth conformation if harvested early but if left to plant maturity, tubers frequently become oversized and rough with growth cracks or hollow heart. Weak to medium storability; low to medium specific gravity.  Oval shape, creamy white flesh, buff skin.  This potato is good for boiling – it is not a good keeper and sadly our specimens have deteriorated somewhat.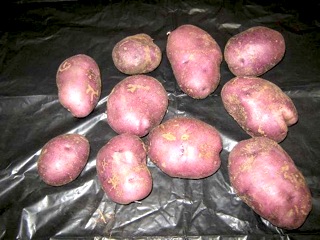 Caribe  (4) –  Caribe is a high yielding oblong potato. Excellent storage qualities and great for boiling. High yielding variety; attractive appearance; widely adapted; easily topkilled; grades well with few culls; stores well. High total solids.  Utilization: good for boiling, fair for baking, and excellent for chipping.  This potato is most interesting – the skin colour is violet but the flesh is white.  It grew well in our garden.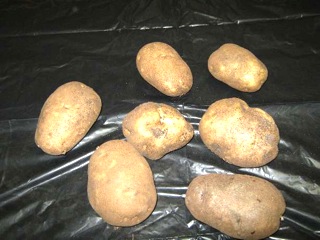 Pacific Russett  (9) – has a russet skin with white flesh, very shallow eyes. Good yield uniform size. Great boiled or baked. Rated very high in Ontario industry trials for yield and uniformity.  High yielding variety of attractive appearance; good resistance to internal and external defects; medium specific gravity.  Utilization: mealy texture; low after cooking discolouration and low boiling sloughing; excellent for boiling, baking and frying.  The Pacific Russett was a disappointment to grow.  It did develop good sized tubers, but they tended to rot quickly and it is not a good keeper in storage.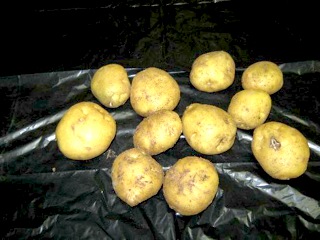 Satina  (23) – Satina is a new variety developed in response to organic potato growers request for a scab resistant variety potato. Satina is an early, very high yielding fresh market potato variety with high numbers of short oval tubers per plant. The tubers have a smooth yellow skin and yellow flesh color. Satina has long storage capabilities and when cooked or peeled has a high resistance to discoloration.  It was a major disappointment in that nearly 50% of the seed potatoes just did not grow.  However, those that did grow gave an excellent yield, with a nice uniform size potato. 
Medium Season Potatoes: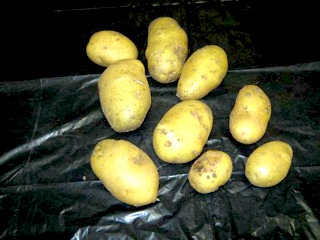 Agria  (8) –  Light yellow skin, dark yellow flesh, shallow eyes. High yielding variety, large tubers. Excellent baker good boiled or fried. Very high yield variety. Large to very large tubers, attractive appearance, only slightly susceptible to internal bruising. Fairly high dry matter content. Long dormancy.  Utilization: relatively firm to floury flesh; free from discolouration after cooking; excellent for baking, good for boiling and frying.  Apparently, can take a lot of sour cream when baked and still be quite dry to eat.    Was very successful in our garden.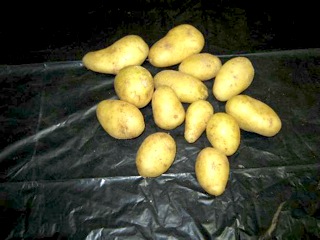 Carola (5) – Carola is a sunny yellow potato from Germany that boasts a smooth, creamy texture and exceptional flavor. It is suitable for baking or frying.  Carola has a lovely, sunny yellow flesh with a nice creamy texture making this potato a smooth  one for frying or in German-style potato salad.  Was successful in our garden.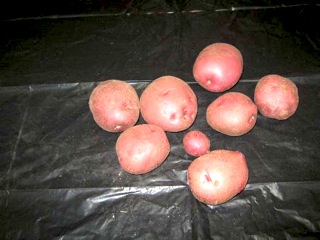 Chieftan (4) – Oval to oblong tubers with bright red skin. Shallow eyes with white flesh. Great boiled and for home fries.  High yielding variety, attractive appearance, widely adapted. Undersizing can be a problem if soil moisture becomes limiting. Well suited for washing at maturity. Good storability. Medium specific gravity.  Utilization: good to excellent for boiling, good for chipping at harvest, excellent for french frying; not suitable for processing.  Was very successful in our garden.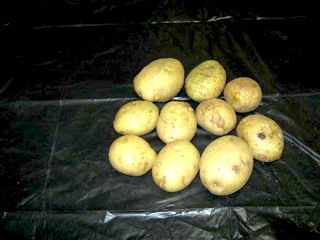 Kennebec (20) – High yielding fast growing variety, widely adapted. Requires close planting (15 to 20 cm between plants) and vine killing to avoid producing oversized and rough tubers. Excellent storage quality. Long dormancy period. High total solids.  Utilization: good to excellent for boiling, baking.   This is a high producing potato with yellow skin and white flesh. It shores extremely well and is great boiled or baked.  It is very popular with growers as there is a high yield per acre for this potato, not so popular with snack makers as it te
nds to produce dark coloured chips / fries. 
NOTE: tuber green rapidly when exposed to light. Was very successful in our garden, but sadly still turned green when in storage even though it was dark storage.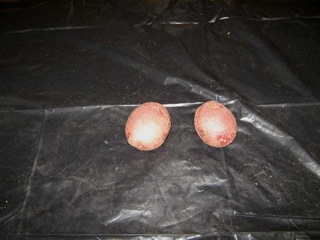 Sangre (4) – Oval to oblong tubers, dark red skin, shallow eyes, with white flesh. Has a very low incidence of internal defects such as hollow heart and is rated as high in Vitamin C. A good storage potato that is suitable for boiling and baking.  High yielding variety. Medium to long dormancy period. Medium specific gravity. Good storability, good retention of red skin color. Adequate warming of seed (at least 7 to 10 days) prior to planting is essential to obtain uniform emergence. Relatively close seed spacing will help optimize yield and tuber size. Slow emergence but grows rapidly. Tuberization occurs early and tubers bulk at a rapid rate early in the season.  Resistant to second growth; rarely exhibits hollow heart, internal discoloration or blackspot. Adapted to irrigated areas of the west. Moderately tolerant to drought. Tubers tend to develop excessive netting under dry soil conditions resulting in a brownish and unattractive appearance.  Utilization: excellent for boiling and baking; ranks high in taste tests; no after cooking discoloration. High level of vitamin C.
This one was a failure in our garden, even though the seed was warmed as mentioned above.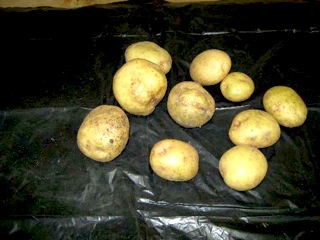 Yukon Gold (9) – Oval, slightly flattened tubers, yellow, skin light yellow flesh. Tubers can grow quite large and store well. Good for boiling baking and frying.  Medium to high yielding variety of attractive appearance. Large tubers are slightly susceptible to hollow heart. Excellent storability; long dormancy period. High specific gravity.  Utilization: very good for boiling, baking, and french frying; unsuitable for chipping; retains its yellow flesh color when cooked.  Was fairly successful in our garden.  There was some problem with rotting. 
Late Season Potatoes: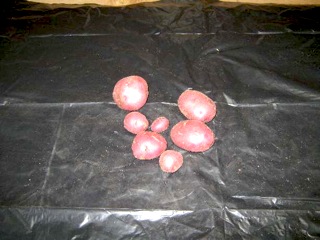 All Red (13) – Round tubers that are rated as medium to late maturity. This potato has a good yield with red skinned and distinctive red flesh tubers that maintain their color after cooking. It has an excellent flavor and a moist texture.  This one is considered a "specialty potato", or perhaps a novelty potato.  It was not a success in our garden, although we did get some potatoes from the plants.  The tubers were small, and rather than being a solid pink colour, the flesh was more white with streaks of pink/red in it.  An excellent choice for potato salad or boiling.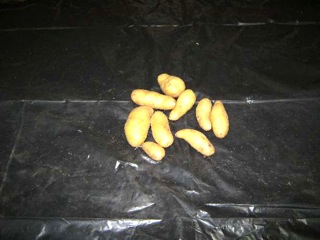 Banana  (15) –  A late maturing variety with generally, small banana shaped tubers, covered with light yellow skin containing pale yellow flesh. The waxy texture holds the tuber together for fabulous potato for salads. Very high set can be expected. Moderately resistant to common scab.  Yellow fleshed fingerling type potato with a high tuber set of 15 to 20 small tubers per plant. Low yielding variety; medium dormancy period; good storability; medium specific gravity.  Interestingly, this potato has been grown in British Columbia for about 100 years.  It is in demand on the "gourmet" market.  Utilization: semi-mealy texture; very good for boiling, baking and frying; excellent salad potato. Another specialty potato that did not work out very well for us – nearly half the crop succumbed to rot.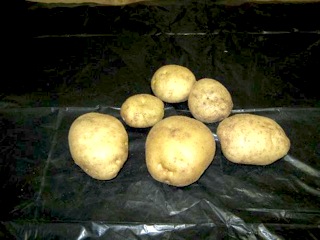 Bellisle (4) – High yielding variety of attractive appearance; performs well under organic production practices; highly resistant to bruising and skinning; good storability; high specific gravity.  Utilization: excellent for boiling and baking; good for french frying; very suitable for small package trade.  Was very successful in our garden.  Is another very dry potato that can "suck" up a lot of sour cream or butter.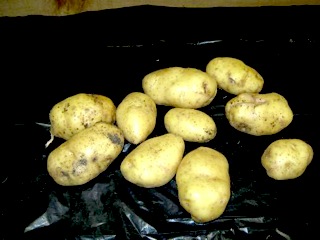 Bintje (20) – Pale yellow skin on a long oval tuber with a yellow flesh. Heavy setting, the thick skin makes this a good storage potato. Excellent all purpose potato with fairly dry texture.  High yielding, widely adapted, suffers very little from magnesium deficiency. Tubers keep fairly well (do not sprout early), have low starch content, are not subject to blackening of the flesh or second growth.  Utilization: excellent for boiling, baking, and french frying; good for chipping.  Was a major disappointment in our garden as nearly 70% of the seed potato did not grow.  What did grow gave good yield however.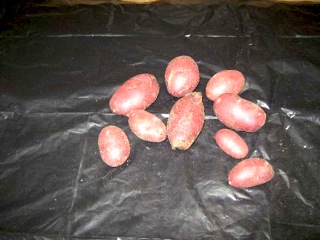 French Fingerling (17) – Late maturing oblong tubers with a red skin and light yellow flesh.  It has the waxy texture characteristic of most fingerling varieties. It grows well and sets fairly heavy.  Another specialty potato, and it was a major disappointment in our garden.  Nearly half the crop rotted away before maturity.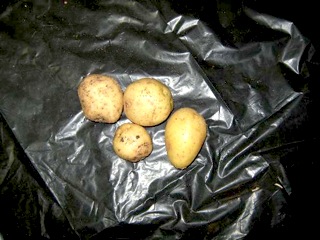 Green Mountain (4) – All round fantastic potato for home gardeners. Perfect for french fries, baking and boiling. High yielding variety; stores well; well suited for washing after two months storage; grows well in light soil.  Utilization: excellent for boiling, baking, and french frying; unacceptable for chipping. 
REMARK: excellent variety very well suited for home gardens.  And this one was a total bust for us, it just didn't grow, which says something about our home garden growing abilities!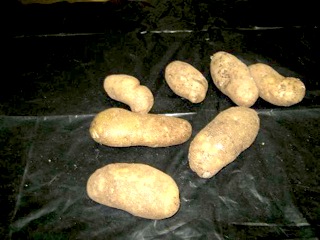 Russet Burbank (4) – Also known as the Netted Gem.  Medium to high yielding variety, attractive appearance, washes well at maturity. Long dormancy period, stores well. Requires a uniform moisture supply and long growing season to produce maximum quality tubers and to prevent knobbiness and second growth. To produce large tubers, plants must be spaced 30 to 45 cm apart. High total solids.  (Netted Gem) Long cylindrical tubers with white flesh, heavy netted russet skin. Very good storage, good all purpose potato.
Utilization: excellent for boiling, baking, chipping, and french frying.
Was quite successful in our garden, grew well, and keeps well.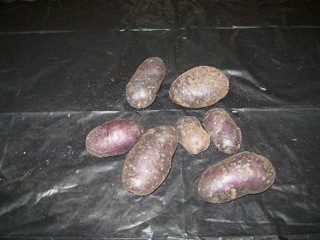 Russian Blue (13) – This late maturing, dark blue skin and dark blue flesh variety has round to oblong tubers. A very heavy setting, large plant that should be spaced at 12 inches or more in an effort to get it to maturity by fall. The flavor is remarkably normal for such a distinctively visual variety.  An interesting potato to grow – when digging it up , one must sift carefully through the soil as it difficult to see the tubers – they are so dark they don't show up in the soil.  This one was a disappointment in the garden as nearly half the crop succumbed to rot.  What did grow gave us excellent sized tubers.
And that is it for potato varieties in the CPR garden at the Port Moody Historical Society Museum.  We hope you enjoyed the display, and of course, understand that as opposed to the grocery store where only 4 or 5 varieties of potato are sold, there are actually many different types of potatoes available to grow and eat.
__________
* All images courtesy of Tom Galanis