Hello everyone,
Just a reminder that we have two events happening this week at the museum.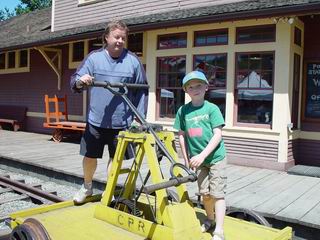 Canada Day Celebration
July 1st 11am-4pm
Enjoy the music of the Kindred Spirits at noon. Have fun with crafts and games for kids and free cake all day! Try out our railway handcar and see our unique velocipede. Take your photo as a railway engineer on our 1921 railcar.
Celebration of the Anniversary of the First Passenger Train
July 4th & 5th 11am-4pm
Try out our handcar, send a telegram* and see our model train display. Kids can play a train car in our miniature railroad, create their own train craft or try to find the Golden Spike in our scavenger hunt.
*Unfortunately the telegraphers we had scheduled to help us cannot make it. Please contact me if you know anyone who knows telegraphs and Morse Code and would be willing to demonstrate them for the public. We have our own telegraph sets they can use.
_____________________________
Rebecca Clarke
Programs & Events Coordinator
t 604-939-1648
f 604-939-1647