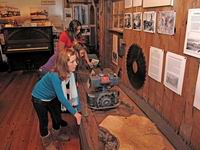 Our education programs are designed to be interactive hands-on experiences for youth and adults.
Youth programs for school classes and community youth groups.
Adult tours for ESL schools and adult community groups.
To book your program now – click here.
Industry and Community is a Half Day program that you can book for your school class or community youth group. A special day has been set aside for home school families on April 1st for this program.
Building a Community in Pioneer Times (grades 2-4)
What does it take to start a community? Participate in an art activity, recreating the budding town of Port Moody in 1907. Examine objects from turn-of-the-century facilities such as the pharmacy, the school, and the general store. Explore the Museum displays in a guided scavenger hunt.
*Art activity available as a do-it-yourself kit.
-o-
Program for home school families offered Friday, June 12th, 2009 from 10:00-11:30am
-o-
Teacher Resources
-o-