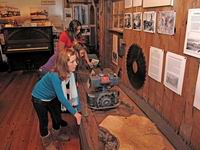 Our education programs are designed to be interactive hands-on experiences for youth and adults.
Youth programs for school classes and community youth groups.
Adult tours for ESL schools and adult community groups.
To book your program now – click here.
Industry and Community
is a Half Day program that you can book for your school class or community youth group. A special day has been set aside for home school families on April 1st for this program.
Industry and Community (grades 4-6)
How does industry impact a community? Learn about the railroad, lumber mills, fur trade and others as you play our industry bingo. Listen to the stories of industry workers of the past, handle objects and examine historical photos and documents. Program adjusted to meet curriculum objectives for each grade level.
Objects and materials from this program are available as an in class kit. The kit may be checked out for a period of 3 weeks for $20.
(available year round)
-o-
Program for home school families offered Friday, May 1st, 2009 from 10:00-11:30am
-o-
Teacher Resources
Industry Backgrounds Link on Program Web Site
-o-
Click here for booking information.