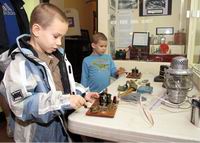 Our education programs are designed to be interactive hands-on experiences for youth and adults.
Youth programs for school classes and community youth groups.
Adult tours for ESL schools and adult community groups.
To book your program now – click here.
Riding the Rails is a Half Day program that you can book for your school class or community youth group. A special day has been set aside for home school families on March 6th for this program.
Experience the exciting world of trains in this interactive hands-on program. Re-enact a 1920s train trip across Canada in our authentic railway car, the Venosta. Learn to send a telegraph and signal a train in an historical CPR station with real railway artifacts.
(available year round)
Program for home school families offered Friday, March 6th, 2009 from 10:00-11:30am
Teacher Resources
Coming soon!
Click here for booking information.