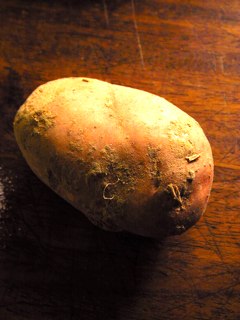 Saturday & Sunday, October 25 & 26th, 2008
11:00am – 3:00pm
At the Museum
The Port Moody Station Museum celebrates the Year of the Potato at their Halloween Harvest weekend. (image of potato from Image*After) The kid friendly scary weekend will include button making, Scary Halloween movies in the Large Exhibit Hall, creepy crafts, wandering ghosts, complimentary hot chocolate and trick or treats.
On Saturday, October 25th the Museum will recognize the Year of the Potato with samples of potatoes showcasing potatoes grown in our heritage garden. There will be a variety of potatoes to try, different flavours, colours and textures.
"We want to make people aware of the importance of this special spud." Jim Millar Curator/Manager says, " The International Year of the Potato is raising awareness of the key role played by the "humble tuber" in agriculture, the economy and world food security. All in all the potato is about the worlds most efficient means of converting plant, land, water and labour into a palatable and nutritious food. To share this "humble tuber" families are invited to visit the museum and enjoy our HALLOWEEN HARVEST". "
The event takes place on Saturday and Sunday, October 25 & 26 from 11:00am to 3:00pm. Spud tasting on Saturday only. Admission is by suggested $2.00 donation. For additional information, contact Maud Sanford (Museum Assistant) at the Port Moody Station – 604.939.1648 or email pmmuseum@telus.net
Maud Sanford
Museum Administrative Assistant
Port Moody Station Museum
Tel (604) 939-1648
Website: http://vcn.bc.ca/pmmuseum