Colourful Carrots and Titanic Tomatoes!
by Tom Galinis – museum volunteer gardener
The growing season is drawing to a close at the Port Moody Heritage Society Garden.  Here is a short overview of some of the crops that we grew this year.
For 2008, we tried several different varieties of carrots  – not so much for their size or shape but for their colour!  Yes, indeed, we tried to grow a white carrot; a purple carrot, a yellow carrot, and finally a red carrot. 
The result you can see in the picture below.  The white carrot grew quite well, and in fact we discovered that it did not like sun – just like the potato.  Those parts of the carrot that were exposed to sunlight turned green.  Otherwise the carrots were quite uniform in size and interestingly very bland in flavour.  Perhaps pigment in fruit and vegetables helps flavour them as well.  The purple carrots didn't come up purple – they came up ORANGE!  Who knows what happened there, but flavour wise they were quite tasty, just like a carrot.  The yellow carrot grew well, and tasted exactly like regular orange coloured carrots.  The red carrot did not turn out as brilliant red as predicted.  Flavour wise, it was rather sharp, sort of tart flavour, not exactly like a carrot taste.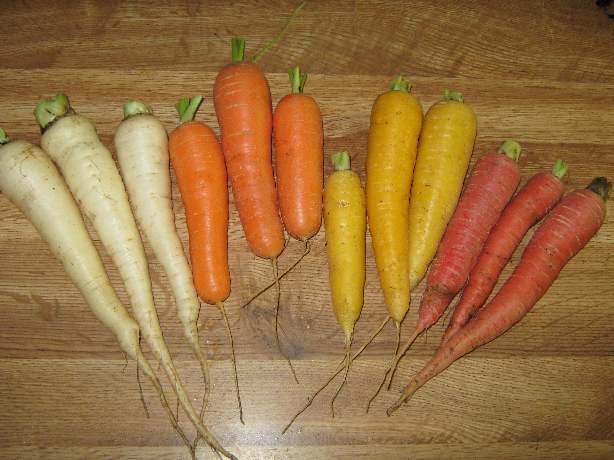 We also grew some tomatoes – these are very popular every year.  This year we concentrated on some different heritage varieties as well as the popular eating cherry tomatoes. 
In the first picture below, you can see some of the larger tomatoes that we tried to grow.  Tomatoes come in both red, purple, and yellow colours.  All of them taste really great.  In the picture below (Tomato 1), the back row left to right is "Striped German", "Lemon Boy" (it is a yellow/orange tomato), and finally a "Great White" tomato – the skin is yellow, but the meat is rather white in appearance.  In the front row, left to right, we have "Black Prince", and then the "Mortgage Buster" tomato.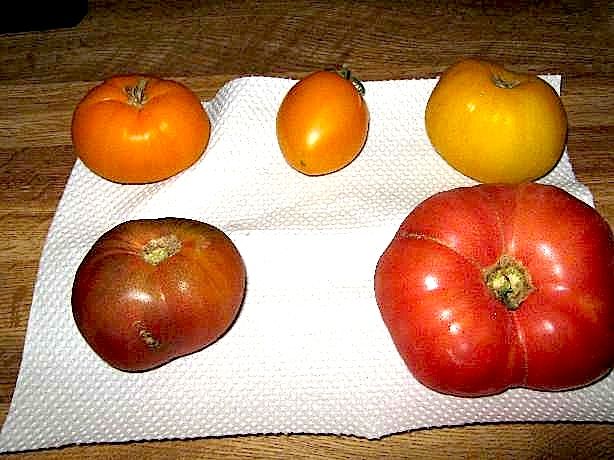 Speaking of size, how big did your "Mortgage Buster" tomatoes grow?  We had several large tomatos from our vines, here are a couple of pictures showing our final weight results.  As you can see, one of the tomatoes almost made it to 1 lb – it was about 13 ounces.  The other tomato was HUGE though, it weighed almost 2 lbs – 1 lb 10 ounces.  And no, I did not have my finger on the scale to get that result.  We gave the "Mortgage Buster" tomatoes away at the Mother Day's event in May 2008; I sure hope that they gave you some nice tomatoes.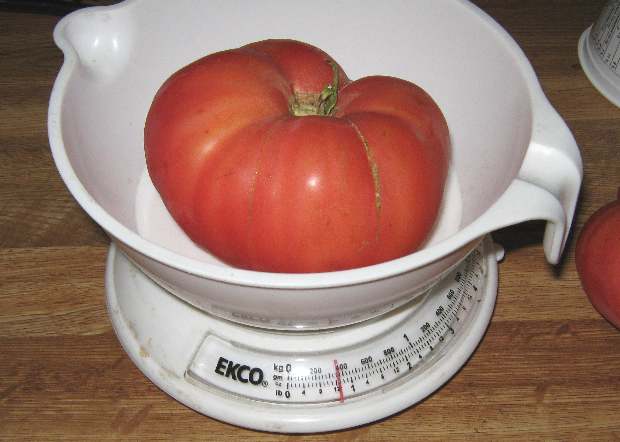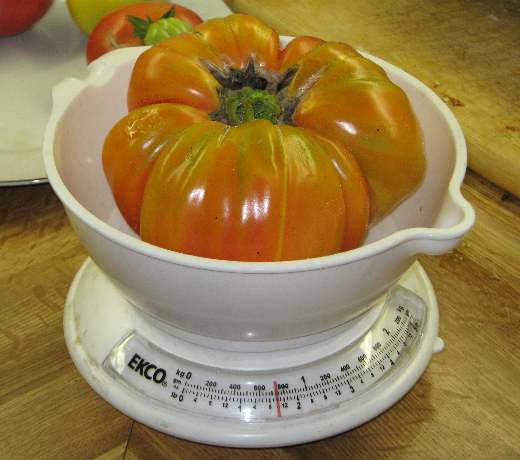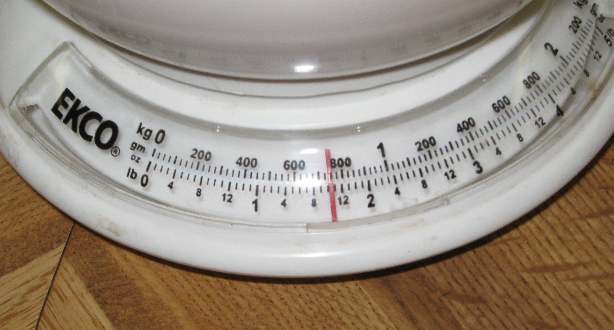 Finally we had some tomato plants that produced smaller tomatoes – two of them came from Michael Muttersbach who regularly contributes to our heritage plant supply.  In the picture below, the two red tomatoes came from him and unfortunately we do not know their names.  The one on the left is most interesting – it matured quite late in the season – at end of September and beginning of October, however the fruit when unripe was mottled with 2 different shades of green (one lime green, the other dark green), and when ripe, had two different shades of red as well – one almost orange, the other darker red.  The other red tomato was bigger and less sweet than a cherry tomato but still much smaller than the regular sized tomatoes.  Finally the yellow tomato is called "Yellow Pear" and it was as prolific as a cherry tomato plant, but the fruit was…yellow and pear shaped.