President's Corner
Wayne Beggs

I would like to take opportunity to thank Dianna Brown for her leadership through last year. She has worked tirelessly on behalf of the Museum and her efforts are greatly appreciated. She continues in the Past-President position and is the Chair of our Display Committee.
Each year, the Museum plays an important role in building knowledge and appreciation of the history of the area. We do this work in the community, but we also introduce our student employees to museum work. Many of our student alumni go on to pursue careers related to their summer work at the Museum. As our dedicated student employees return to school, I would like to thank, Mark Perry, Sarah Billy, Nicole Gibson, Candice Holt, Darcy Crum, and Nick Czapiewski for their enthusiastic efforts this summer.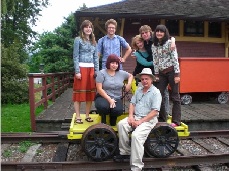 (image to left of 2008 Summer Students and Museum Curator)
Clearly, as an organization, the Port Moody Heritage Society lies at a crossroads. The plans for the Murray Clarke Connector will impact access to the Museum. Our Board and staff will be working closely with City staff and with Translink staff to ensure that our concerns are noted and addressed. At the same time, the City of Port Moody will be convening a discussion about the establishment of an Arts Precinct within the City. As an organization, we hope to actively participate in shaping this exciting possibility.
Our efforts to develop a base of members and volunteers are continuing. As the City grows, the Port Moody Heritage Society will be looking ot reach out to our new citizens, to offer quality volunteer opportunities. To ensure that we are attracting and retaining volunteers, Museum staff will be working to create a full Volunteer Program. If we have Society members with expertise in volunteer management and programming, I urge you to come forward to lend us a hand.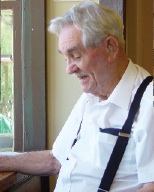 (image to right of Mr. Frank Tree – last Station Master in Port Moody)
Finally, I would like to acknowledge the efforts of our volunteers on the Education and Display Committees. These tow committees have worked hard to advance their committee mandates over the summer. The Education Committee, working closely with our Manager/Curator, Jim Miller has accessed funding to hire an Educational Coordinator and will be working to put educational programming into place over the next few months. I would also like to acknowledge the work of our Display Committee, which has investigated our significant collection and has established a draft plan for Museum exhibits that will take us to the middle of 2010. Both of these committees have advanced us towards the goal of becoming one of the best small museums in the Lower Mainland.
Thanks to you, our membership, for your ongoing support of the Port Moody Heritage Society. Please feel free to provide me with feedback about how we are doing. Call the Museum and we can set-up a time to talk.
Thanks.
Excerpt from the "Station Telegram" Fall 2008 Edition.
The "Station Telegram" is the newsletter of the Port Moody Station Museum and is available at the museum or mailed to Port Moody Heritage Society Members.