Moody Station 100th Anniversary
In July, 2008 The Port Moody Station Museum celebrated the Station's 100th Anniversary. The grounds of the Museum hosted many activities. The kid's kraft tent was as popular as ever with masks, puppets and imaginative designs being created. A sweet treat for our visitors was the 100th Anniversary cake which was baked using over 100 cupcakes. An individual cupcake was given to the first 200 visitors.
Throughout the day live entertainment provided a musical backdrop to enjoying a beverage at the picnic tables or just sitting and listening in the sun. We were honoured to have the Children of the Rainbow Drum Group, which is an Aboriginal youth group. These performers ranged in ages from 3 – 14. Other groups included Moody Park, The Inlet Jazz Combo and our wonderful volunteer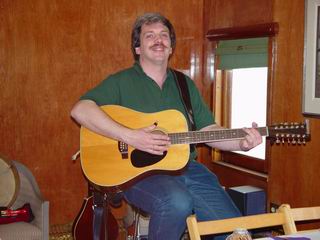 Nigel Tucker (image to left) who warmed up the crowd with a myriad of Celtic Tunes!
By far the highlight of the day was the appearance of Mr. Frank Tree. Mr. Tree was the last Station Master in Port Moody, ending his career when the Station closed in 1976. He lived in the building for over 10 years with his wife and family. He also visited the Station when it became a museum in 1983.
Excerpt from the "Station Telegram" Fall 2008 Edition.
The "Station Telegram" is the newsletter of the Port Moody Station Museum and is available at the museum or mailed to Port Moody Heritage Society Members.