Winter at the Museum
by Darrell Wade Penner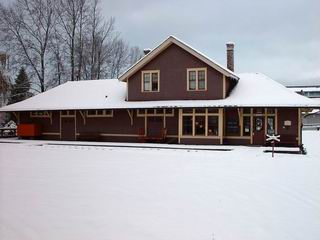 The Port Moody Station Museum is a special place to me at any time of the year, but I love it in the winter, especially in the weeks before Christmas and the Holiday Season. I love to see the station and the rail car – Venosta – decorated for the holidays with traditional decorations, Christmas lights, poinsettias, and other signs of the season. Some of the traditional decorations older than others.
It is still officially Autumn, but to me – Winter begins with the ending of November and the beginning of December. There are still around 4 weeks to the Winter Solstice, but I am already thinking Winter Thoughts.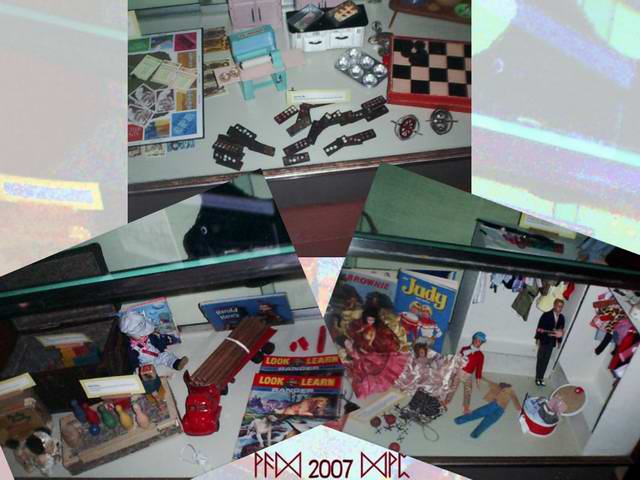 Right now we are lucky enough to have a display of toys from over the past century or so in the "Mail Room" – the Small exhibition hall beside the Telegraph room. This display has been quite popular and has been up for quite a while and I hope that even if it does get replaced, that it does get put up each year in time for the Holiday Season.
We will be having our traditional Holiday teas in the Venosta* on the coming December Sundays of the 9th, 16th, and 23rd. The Venosta is always nicely decorated and set out for the teas. The museum is set a bit apart from the shops and the hustle and bustle, but it is cradled in the loop of the Murray/Moody street interchange and so is an easy stop-off for a soothing Sunday tea with Christmas Carols and Holiday Music in the background.

While it is not actually at the museum, we at the museum take part in the annual CPR Holiday Train* which will arrive at Queens Street Plaza Tuesday, December 18th at 9:15 pm. We serve hot apple cider there at this Free Family Event. It is a fund raiser for the food banks throughout the Tri-City area.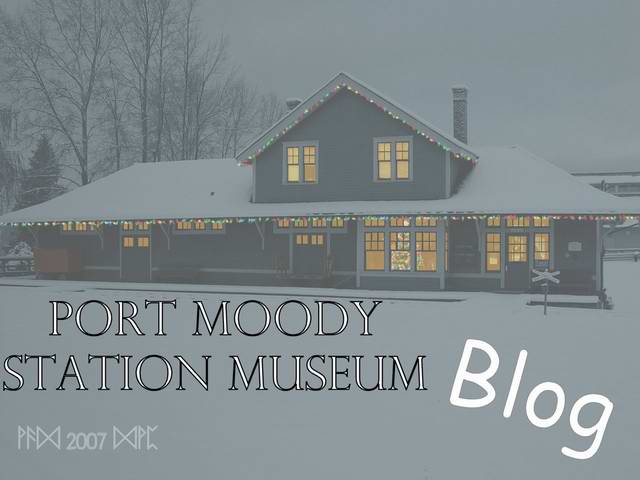 While we can always expect to see snow here in Metro Vancouver… on the mountain tops on our northern side, we may or may not see it here at sea level at the museum. When we do get snow at sea level, it is beautiful. While the snow clouds are still in the air Burrard Inlet is a dark grey calm stillness, the mountains disappear or are giants hunched in the background and the hills are shadows of themselves. The museum is beautiful with the snow on the ground creating a sense of purity, making pristine the mundane reality. It can really make the lights on the eaves and in the windows warm and welcoming.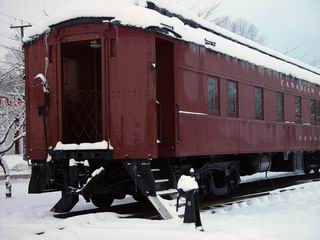 At one time wood, coal, or oil stoves kept stations warm, now modern natural gas furnace and heat pumps do – and of course the oil and kerosene lanterns have been replaced by first incandescent bulbs and now by energy efficient compact florescent bulbs.
Come and enjoy a visit to the museum this winter!
~ Darrell Wade Penner
Museum Webmaster and Board Member
__________
* Events are mentioned earlier in this Blog