Happy Canada Day!
To Everyone From The Port Moody Heritage Society

Join us today for
"The End of a Perilous Journey"
July 1st 10am – 4pm (Sunday)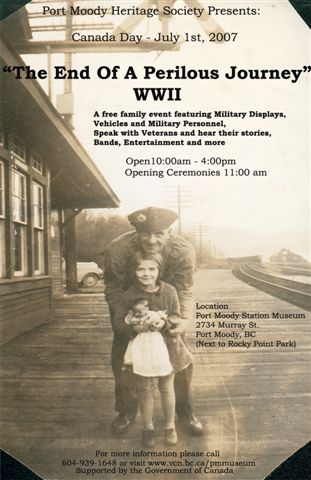 Join us as we take visitors back 62 years so that they may experience what things were like as the Second World War was nearing its end. Entertainment, concession, military displays and vehicles, British Columbia Regiment Pipes and Drums, Burma Star Veterans Association to name only a few participants.
A "Parade" of digntaries will be arriving shortly after 10am.
The Official Welcoming Ceremony starts at 11am
The lineup includes:
"…international dignitaries, vintage cars, a cannon — even an airplane." Tri-City News, Friday June 29, 2007 by Sarah Payne
15th Field Artillery Regiment brass band
BC Regiment Association pipe band
Consul General from France, the Netherlands, and the Republic of Korea
Military vehicles: Canadian army scout car – two Bren gun carriers – halftrack – World War I replica biplane
Large photo display from the Dutch government
Artwork and poetry readings from Glenayre elementary school's French immersion classes
Dawn Black, NDP MP for New Westminster-Coquitlam with her display on Afghanistan. She'll be collecting Tim Horton's coupons for the troops.
Displays in the Venosta: 12th Field Jericho garrison's medical unit – the Hong Kong Veterans' Association – the Air Force Association of Canada – the Burma Star Veterans – the Nursing Sister's Association.
Members of the Royal Engineers Living History Society will be on hand dressed in period uniform from the 1880's and re-enact Col Moody and the engineers arriving in Port Moody
And more!